About Us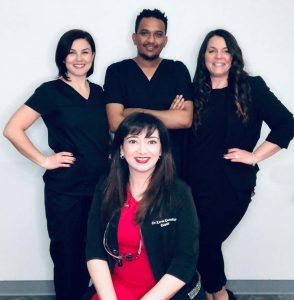 Our mission is to treat each patient with dignity, respect, kindness and understanding.
I have worked in many corporate run dental offices as an Associate Dentist, with that collective experience I decided when I have my own practice it will be completely different. Not sales or production report driven. Instead I strive to be that small town dental office in a big city. To know each patient personally, their motivations for treatment and their goals, and to exceed expectations on all accounts.
To demonstrate that the patient is valued in my practice is vital. To always be kind, caring and compassionate. I never want to be thought of as the dentist that adults remember as the person who caused their childhood traumatic dental experiences. How many times have I heard "I love you, but dislike dentists, let me tell you what happened to me in the past". Instead I want to be the exact opposite. The dentist that perhaps inspires the younger generation to pursue a dental education and career.
I want to listen to your concerns, educate you on your oral health, and help you decide on the best dentistry plan for you and your family. My team must be highly motivated and excited to work together to serve as dental coaches for ideal oral health, to guide our patients and their families. Keeping up with the latest technology, treatment modalities and continuing education goes without saying. This is the excitement that keeps dentistry interesting and creative for me and it is why I became a dentist in the first place.
This is who I am. My dental team is my mirror and patients who come to me quickly replace fear with positivity and new stories to tell of how dentistry is different now.  The bonus is I love my job and in my experience when people love their job, they take great pride in what they do, who they work with, and patient satisfaction.
24+
years of dental expertise
3000+
hours of continuing education
100s
of complex procedures and implants

Dr. Karen Kassabian
I was born and grew up in Toronto Canada and attended University of Toronto receiving my BSc., followed by my dental degree from University of Michigan in 1995.  I have licenses to practice dentistry in Canada, Florida and California.  For 10 years I lived and worked in Florida, but returned to Canada 12 years ago. I chose Toronto to set up my dental clinic, because I love our city, love our communities and the people that mean the most to me are here.
I enjoy the profession of dentistry and strive to provide excellent clinical care with gentle personal attention.  It gives me a new and exciting challenge every day, what I enjoy the most however is the interactions I have with my patients.  It makes me smile knowing that I can enhance yours.  I am commited to listening carefully to your needs and your concerns before suggesting treatment options.  I will help you take an active role in your oral health.  Together we can achieve the results you want.  My goal is to make your dental visits informative, positive and reassuring.  As a professional I realize that our education does not end with what we learned in university.  I am a highly motivated dentist who pursues continuing education year round to serve you with the most modern techniques and equipment, and to make your dental appointment as comfortable and memorable as possible.
I look forward to getting to know you and your family too.
Dr. Kassabian has now completed her year long residency course in Implantology at University of Toronto.  She is very excited to add this aspect of treatment to existing choices of dental therapy.  After considering the four most recognized and well researched systems available on the market, Dr. Kassabian has decided to choose the Straumann dental system, the number one system chosen globally. We chose the best for you.
Dental Implants
Replace the tooth root
Helps prevent bone loss
Preserves adjacent teeth from being drilled upon for a bridge
Prevents teeth from shifting into the space of the missing tooth.
Allows patients to bite and chew normally
Helps one speak naturally
Helps one feel more attractive when replacing a tooth that was missing in your smile.
These are just some of the benefits of implants. Ask about how you can restore your mouth to full function, spare future bone loss, and create a beautiful smile with dental implants at your next visit.
Our Team
Our team is fully trained, skilled and certified to provide you with the advanced dental care you may require.  We  all make it our personal mission to make your visit as friendly and pleasant as possible.  We are up to date with our continuing education by attending seminars and lectures each year, as well as staying current with the latest equipment and treatment techniques to better service you and your families oral health needs.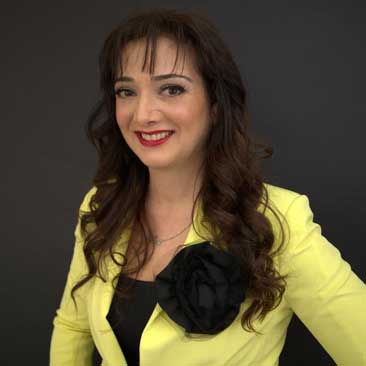 Dr. Karen Nairi Kassabian, B.Sc., D.D.S.
Dentist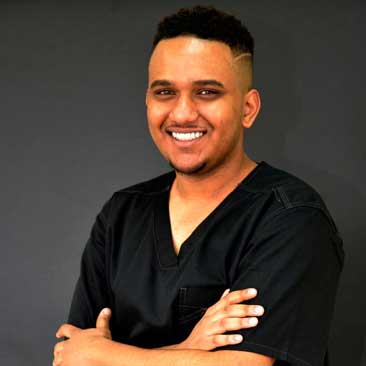 Matias Luchano Ayele
Dental Assistant Level II